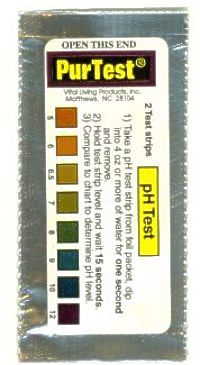 Product ID: PTS-PT301PH
Category: Testing Kits - Test Kits

pH Foil Packet Test Strips

Description: 2 test strips per foil packet.

Water dissolves mineral substances it contacts, picks up aerosols and dust from the air, receives man-made wastes, and supports photosynthetic organisms, all of which affect pH. Everything from your hot water heater to your health can be affected by what is in your water. Testing the pH is a good indicator if there is a problem.

Follow directions on package.

Need more than 1 test packet? $SAVE MONEY$ with our Mix & Match DIY Water Quality Test Strip Kit.