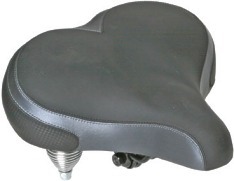 Product ID: BSHH-BW11
Category: Bicycle Seats & Covers

11in x 11in Big Wide Comfort Gel Bike Seat

Description: A BIG ONE, Our most popular!! Measures a full 11" wide and 11" long! A big seat for such a small price. Coil springs on the underside help to smooth out the bigger thumps and bumps. This seat has a unique GelFoam technology design. This is important! Many gel saddles use a liquid gel that can solidify turning into a saddle that feels like concrete! This saddle will not, because of a Dual Density Gel. It's softer gel/foam on top and a more dense gel on the bottom. This design is much nicer than most, and helps eliminate bottoming out the padding.

Due to product processes, seat may be between 10 1/2" to 11" wide.

For even more comfort, add a gel or genuine sheepskin seat cover.

Need this seat for an exercise bike? We have bike seat adaptors that fit any exercise bike.

Click here to choose the correct adaptor by exercise bike model.
Click here to choose the correct adaptor by shape.
Adaptor Kits (You only need an adaptor kit for exercise bikes.)

with Universal 3 Hole Adaptor Kit -
Adaptor Kit $32.95
Fits: Tunturi, ProSport and Vital Fitness
Exercise Bikes.

with Universal 4 Hole Adaptor Kit -
Adaptor Kit $34.95
Fits: ProForm, Weslo,
and Nordic Exercise Bikes.

with Custom Adaptor Kit -
Adaptor Kit $39.95
Fits: Any Exercise Bike.

with Round Post Seat Clamp
7/8" diameter add $3.00
Only used for older style bicycles
Price: $39.95