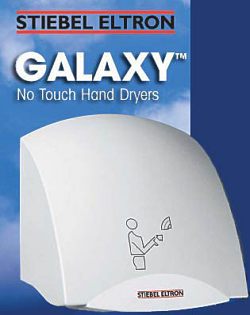 Product ID: SBE-Galaxy
Category: Electric Heaters

Galaxy Hand Dryers

Description: Stiebel Eltron's Galaxy™ has all the features you expect in a great hand dryer. Make an environmentally sound decision to save trees and energy, while putting an end to the paper towel mess in your washrooms.

Galaxy Hand Dryers make good business sense and usually pay for themselves within a few months of installation. Eliminate the cost of purchasing and restocking paper towels and reduce your waste removal costs.

Built by Stiebel Eltron, a world leading manufacturer of technically superior products, Galaxy™ embodies a proud tradition of quality and workmanship that delivers maximum value, efficiency, and reliability.

A new generation of hand dryers.

Features:
Automatic On-Off Controls
Quick Hand Drying
Elegant Design
Quiet Operation
Durable Construction
Easy Installation
Rugged Construction.
Stiebel Eltron offers two product categories:

The Galaxy™ features a durable, ABS polycarbonate housing with a wall thickness of 1/8" (3mm). This is the ideal choice for light to medium traffic areas. The only color choice available is white.

The Galaxy™M features a housing of rugged cast aluminum alloy with a wall thickness of 1/8" (3mm). The Galaxy™M is available in three attractive standard colors that complement any washroom environment. Its rugged metal housing makes this dryer the perfect choice for high traffic areas.
No Touch Operation.
An infrared type proximity sensor turns the unit on and off automatically. Place your hands underneath the unit, and the blower and heating elements are activated. Take your hands away, and the dryer stops running, minimizing the use of electricity. This saves energy and operating costs!
Quiet and Trouble Free.
With a noise level of only 54 DB, the Galaxy™ is one of the quietest hand dryers on the market. The brushless motor design yields a long service life. Galaxy™ is backed by an industry leading warranty stating it will be free from defects in workmanship and material for a period of FIVE YEARS.
Fast Drying.
A careful selection of air temperature and air speed dries hands quickly every time ! Depending upon individual preferences, drying time is within 20-30 seconds
Click here for installation manual (.pdf file)
(Adobe Acrobat© Required)
Don't have Acrobat Reader?
Click on this button

Free!
Free Shipping
(Lower 48 States Only)
Price: $269.00