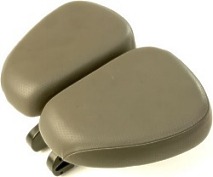 Product ID: BSHH-EASYDLX
Category: Bicycle Seats & Covers

Dual Pad Easy Seat Deluxe

Description: The dual pad design is recommended by doctors to help relieve pressure to the soft tissues, making a more comfortable ride.

The two seatpads move slightly with the weight and downstroke of the rider, keeping legs fresh mile after mile. Enclosed in the base of each seat pad is a stiff elastomer (cushioning plug ) which allows the pads to stay with the riderís down stroke providing a very stable ride.

The nu-leather covering is perforated to prevent stretching and allowing for a customized fit.

The adjustment dial allows for the width separation of the seats to be synchronized and held in place. This allows other riders to adjust to their comfort zone.

Features:
Seat pad width is controlled by one simple adjustment dial
Durable nylon/glass base stress tested to hold over 800 lbs
Medically Approved
Comfortably designed seat pads with Nu-leather cover & gel padding
Seat pads also contain built in elastomer for stable ride
Adjusts from 9" wide up to 10 1/4" wide. Maximum center opening is
1 1/2" wide.
Each seat pad is: 4" wide x 5 1/2" front to back.
Fits any Standard, Conventional Rail-Mount Bicycle (7/8" post clamp available)
Want more padding? Try the new Gel Padded Covers for the EasySeat Deluxe/EasySeat II.
The EasySeat Deluxe is a unique seat. It may take time to adjust to the firm dual flexing pads. Try it for a couple of weeks and see.
Need this seat for an exercise bike? We have bike seat adaptors that fit any exercise bike.
Click here to choose the correct adaptor by exercise bike model.
Click here to choose the correct adaptor by shape.
Adaptor Kits (You only need an adaptor kit for exercise bikes.)

with Universal 3 Hole Adaptor Kit -
Adaptor Kit $32.95
Fits: Tunturi, ProSport and Vital Fitness
Exercise Bikes.

with Universal 4 Hole Adaptor Kit -
Adaptor Kit $34.95
Fits: ProForm, Weslo,
and Nordic Exercise Bikes.

with Custom Adaptor Kit -
Adaptor Kit $39.95
Fits: Any Exercise Bike.

with Round Post Seat Clamp
7/8" diameter add $3.00
Only used for older style bicycles
Price: $89.95