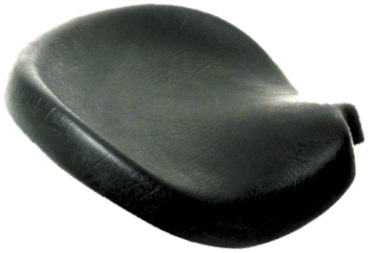 Product ID: BSHH-UPGDBENCH
Category: Bicycle Seats & Covers

Contour Seat - Upgraded Bench Seat

Description: Did you ever wonder why a farmer can sit in a hard, stamped metal seat all day while he plows his fields? It's because the weight of his body is distributed over the large area of the seat. No padding at all! This simple and obvious concept was the driving force behind the Bench Seat. The hornless design of the Bench Seat with soft foam padding, has a large surface area to help relieve painful contact points in the crotch and buttock areas. This results in a seat that is perfect for elderly riders or anyone tired of the pain caused by typical bicycle seats.

Need this seat for an exercise bike? We have bike seat adaptors that fit any exercise bike.

Click here to choose the correct adaptor by exercise bike model.
Click here to choose the correct adaptor by shape.
Adaptor Kits (You only need an adaptor kit for exercise bikes.)

with Universal 3 Hole Adaptor Kit -
Adaptor Kit $32.95
Fits: Tunturi, ProSport and Vital Fitness
Exercise Bikes.

with Universal 4 Hole Adaptor Kit -
Adaptor Kit $34.95
Fits: ProForm, Weslo,
and Nordic Exercise Bikes.

with Custom Adaptor Kit -
Adaptor Kit $39.95
Fits: Any Exercise Bike.

with Round Post Seat Clamp
7/8" diameter add $3.00
Only used for older style bicycles
Price: $89.95